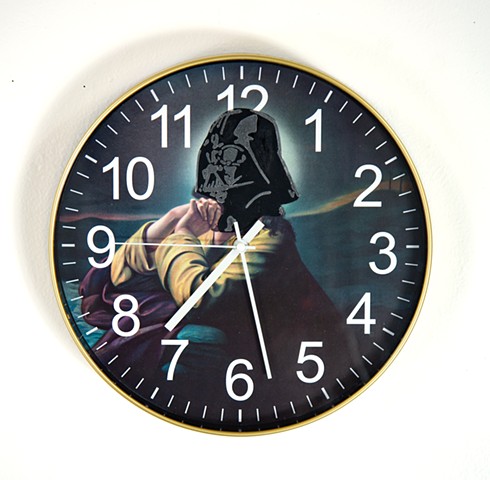 If you only knew the power of the dark side (Plagueis the Wise 6:10)
Acrylic paint, chrome marker, official 'As Seen on TV' James Earl Jones Prayer Clock®
12 by 12 inches
2022
The face of the Prayer Clock® shows a classic Anglo-Saxon rendering of Jesus kneeling in prayer. Every hour on the hour, an internal speaker plays biblical affirmations recited by legendary Hollywood actor James Earl Jones.
Purchased for $29.95 plus $5.95 postage and handling, Fields has replaced Jesus' face with a painted rendering of Darth Vader's helmet, arguably the most iconic villain in American cinema; Vader's voice is famously portrayed by Jones.
Celebrities are often used by companies to increase sales and brand recognition due to our own neurological proclivity to choose familiarity over uncertainty. Can you draw any connections between these types of marketing strategies and the way we experience spirituality in 21st century America? Are Capitalism and Christianity incompatible?